Best Beginner Drones – Entry Level Quality and Pricing
Thinking about getting into flying drones? There's so much information out there – it can be a daunting task. But don't worry, we're here to help. To get started, you're going to need a drone. And if you're still a newbie, you may not want to break the bank doing it. That's why we compiled this list of entry level drones at affordable prices.
Holy Stone HS710
With a modern design, a high-quality camera, and GPS capabilities, the Holy Stone HS710 has awesome quality for its price point. At $280, you're getting the same capabilities as a drone almost twice the price. If you're looking for a drone with tons of features and an entry-level price point, give the Holy Stone HS 710 a look.
Pros and Cons
One big advantage to the Holy Stone is its foldable design. That makes it super simple to transport and move around, unlike bulky, non-foldable designs. It also comes with 3 batteries. Each clocks in at 23 minutes of flight time, giving you over an hour once all three batteries are charged.
Here's another bonus: since it only weighs 240 grams, you won't have to register it with the FAA. And with additional GPS features like waypoint programming, points of interest, following capabilities, and return to home, Holy Stone's HS710 is a great way to learn how to fly. 
Potensic T25
If you're looking for everything you'll need to get started flying drones at the lowest price possible, the Potensic T25 may be the way to go. With a $169 price tag, it's significantly cheaper than many other options out there. As a result, the T25 is a great choice for newer fliers to cut their teeth on.
Pros and Cons
Probably the best part about the Potensic T25 is that it comes with three batteries and a carrying case. That's a good thing, since each 1,000 mAh battery only affords the T25 10 minutes of flight time. Another benefit of the T5 is its weight. Clocking in at less than 250 grams, you won't need to worry about registering your Potensic T25 with the FAA.
While the 2k camera isn't the best on the market, it gets the job done. And its non-folding design isn't the most cutting-edge out there. But with return to home, hovering, and subject tracking features, the Potensic T25 is a cost-effective option for drone newbies.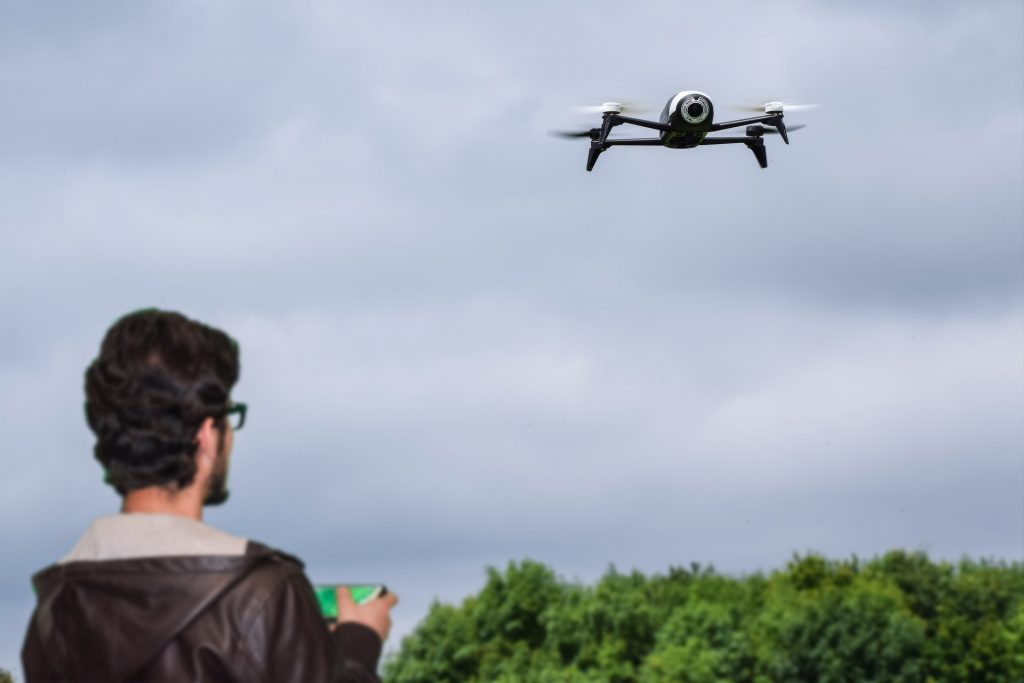 Ryze Tech Tello
Here's the lowest-priced option on our list for best entry level drones for beginners. Made by DJI (a household name among drone manufacturers), the Ryze Tech Tello only costs $99. However, there are a few limitations that set it firmly below other entries on this list. We'll cover them below.
Pros and Cons
One of the best things about the Ryze Tech Tello is its maneuverability and ease of control. Even complete newbies will be able to get the hang of drone flight in the first outing or two. It also has a decent battery life. Each battery provides 13 minutes of charge, more than enough to zip around your park or backyard.
Like the other drones we've listed, the Tello's low weight means you won't have to register it with the FAA. It's also extremely portable. There's one more problem with the Ryze Tech Tello's ultra-lightweight design, though. It's extremely susceptible to wind changes. As a result, it's best flown on calm days. 
Are you new to the world of drone technology, and would like to learn more? Give us a follow on social media and check out our Certificate in Unmanned Technology – Aerial Systems course.