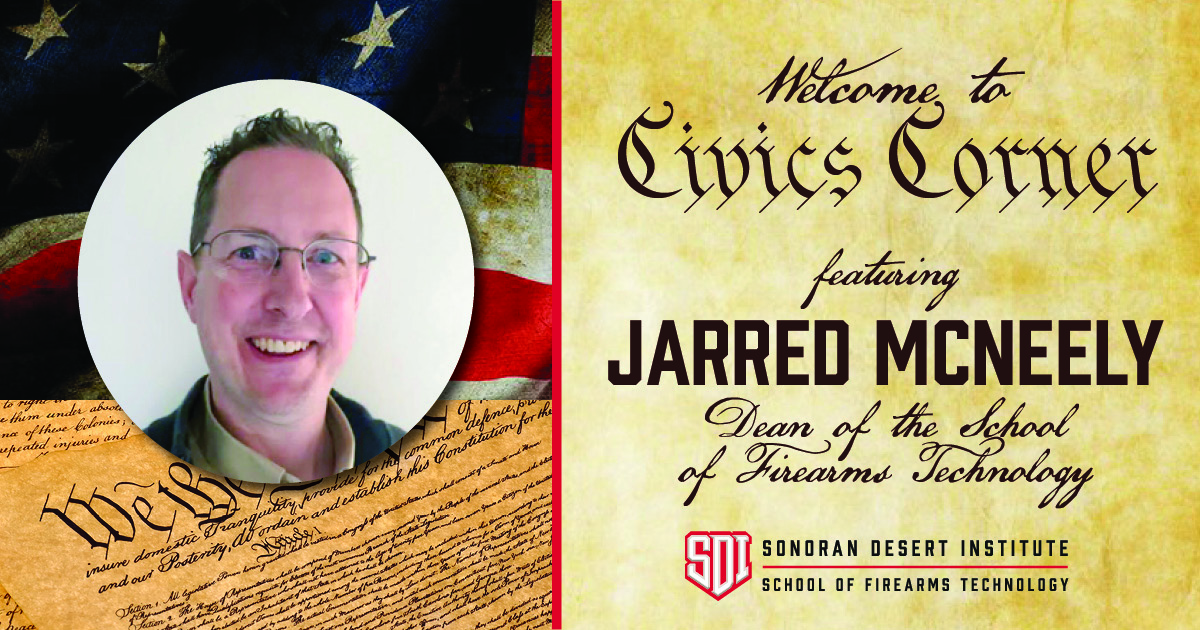 Check Out SDI's First-Ever "Civics Corner" Featuring the Dean of the School of Firearms Technology, Jarred McNeely!
Hello to all of our SDI students, grads, and friends,
Welcome to our inaugural "Civics Corner," a recurring, ad-hoc series with the intent of keeping our SDI family informed and supported on legislative, regulatory and industry issues.
Today's goal is to provide you with information to help you contact your government officials about the issues that affect our industries, regardless of your opinion or stance, as we believe that active participation in government is a tenant of good citizenship.
Currently there are several issues that have bearing on the firearms industry, and one of the most timely of them regards regulatory changes that will affect how "80% lowers" are classified (along with other rule changes). The comment period for this opens today and there is a specific, although easy, process to submit comments concerning this proposed rule.
To comment on the proposed regulation, comments must be made no later than 12:00 a.m. EDT August 18th, 2021. Instructions to comment can be found here.
Please note that page 2 covers mailed, faxed, and electronic comment submissions and what needs to be included in those submissions. Further information is given beginning on page 67 and continues through page 69 of the proposed rule.
Additionally, you can obtain a copy of the current regulations here.
It often helps to see the current regulation to understand how the amended regulation would interact.
One more thing: many of the firearms-related legislative items will flow through the judiciary committee. A link to their schedule of upcoming meetings and hearings can be found here.
We are sure that you will notice that we are not providing guidance as to what you should say — that's not what we're about.
As an educational institution, we respect each person's opinion, but we do want you to be empowered to speak up about your opinion concerning legislative and regulatory matters.
We view this as an opportunity to guide our readers, our students, our grads, our staff, and our friends chance to have a voice in your government. We encourage each of you to make your comments through the resources provided above.
We realize that oftentimes interactions with government institutions seem hard or difficult, but your voice is worth hearing. If you are willing and able, make it heard.
If you have additional questions, comments, or if you need additional guidance, please contact CivicsCorner@sdi.edu.